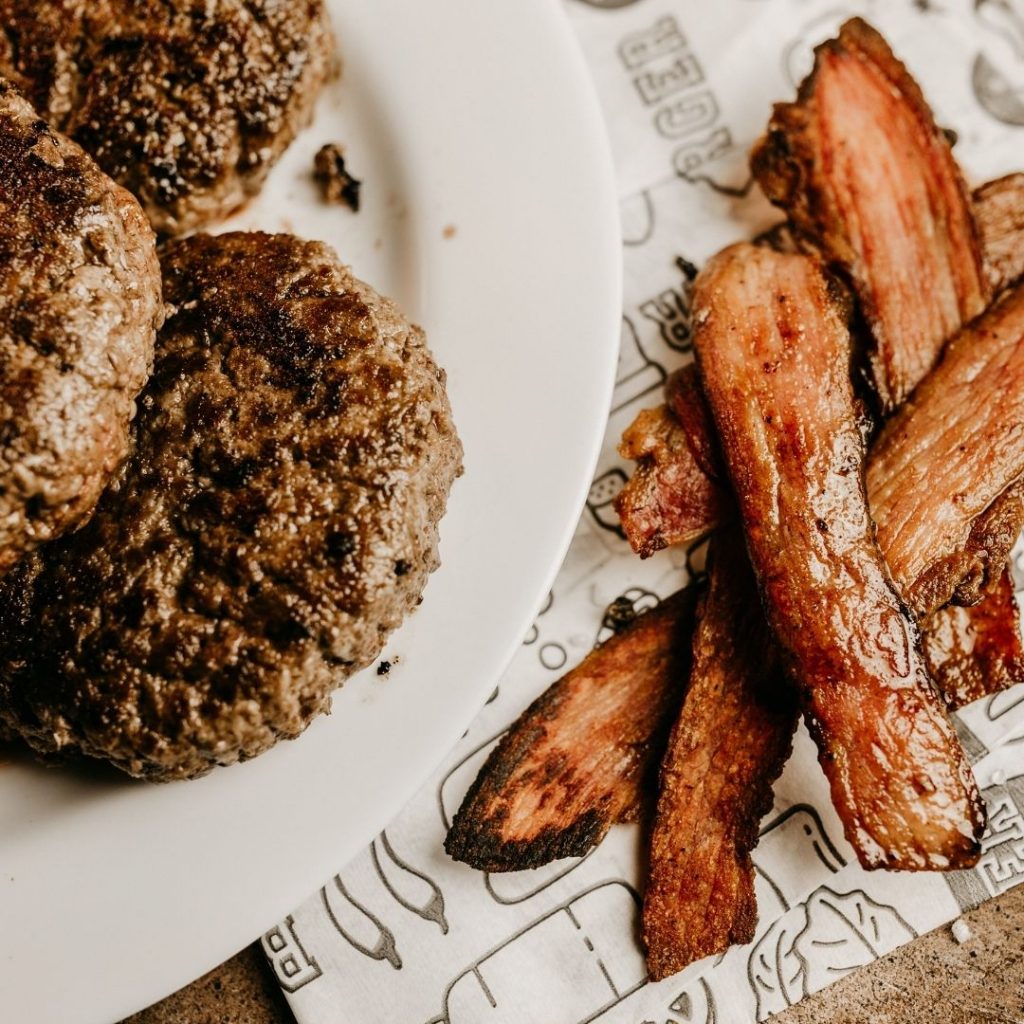 Twisted bacon is everywhere, it's taking over the internet. JK it's not really but it is having its moment in the sun. Twisted bacon is soft and crispy while somehow staying juicy. It's a Tiktok trend and it's super easy to make. Plus, who doesn't love bacon?
Heat the oven. You'll want a 350°F oven so heat up your oven while you're twisting your bacon.
Line a baking sheet. Line a rimmed baking sheet (super important, make sure it's rimmed so the bacon fat doesn't spill everywhere) with parchment paper. This is so the bacon doesn't stick to the pan and it also makes it easy to clean up.
Twist the bacon. Take a strip of bacon and hold one edge down with one hand and use your other hand to twist it up. Place it on the baking sheet and repeat.
Bake. Pop the bacon into the oven and bake until crispy, flipping halfway.
Enjoy. That's it! Use a pair of tongs to remove the twists from the baking sheet onto a wire rack or paper towels to let some of the bacon fat drain off then enjoy.
Air fryer twisted bacon
If you have an air fryer, you can make air fryer twisted bacon. It's exactly the same steps, just preheat your air fryer, place your bacon in the air fryer basket, and bake for about 8-10 minutes. Air fried bacon is really great! Check out more tips for air fryer bacon here.
Toaster oven twisted bacon
For those times when you only want a couple of bacon twists, don't sleep on your toaster oven. Toaster ovens are perfect for making twisted bacon. They don't take any time to preheat and they'll give you crispy twisted bacon in no time. Twist your bacon the same as you normally would, then bake in the toaster oven at 350°F for 10 minutes, then flip and bake for another 10 minutes. It takes a little less time in the toaster oven because the element is so close to the bacon. If you need it a bit crisper, don't be shy, just add a couple of extra minutes.
Twisted turkey bacon
If you're seeing this and thinking, can I make twisted bacon with turkey bacon, the answer is yes! Turkey bacon twists up the same as regular bacon and ends up just as crispy and juicy.
Tips and tricks
parchment paper – use parchment paper for easy clean up. You can use foil too if that's what you have.
rimmed baking sheet – this one is important, don't use a flat baking sheet because you need the rim of the baking sheet to catch the bacon fat.
you don't need to space them out – usually when you're making bacon you want to give them space to crisp up, with twisted bacon you can snuggle them all up next to each other.
don't pour bacon fat down the sink – important!! let the bacon fat solidify on the the parchment paper and save it for another use, or fold it up along with the parchment paper put it in the compost if your city does industrial composting.