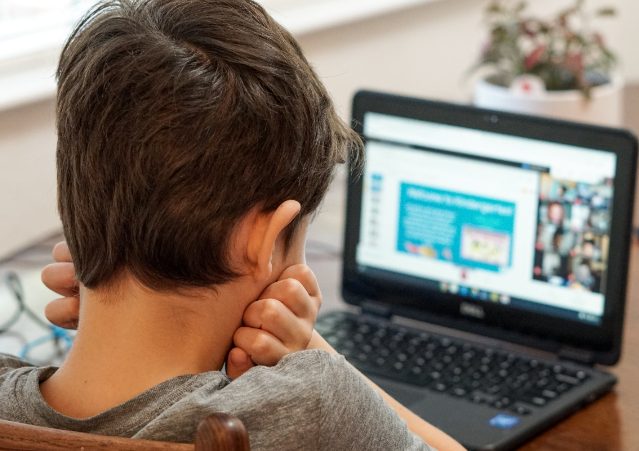 The internet has revolutionized a lot of things, and the way we learn is no exception. From the rise of e-learning to massive open online courses (MOOCs) and even virtual learning environments (VLEs), it's become easier than ever for people to acquire new skills from the comfort of their own homes. In fact, with more people turning to online courses to upskill, these digital tools have become invaluable resources for those looking to pursue new career paths or deepen their knowledge in specific fields. In this blog article, we will explore why more people are turning to courses to upskill and how you can join the online learning revolution.
What is online learning?
The online learning revolution is happening because people are realising the benefits of learning online. With online learning, you can study at your own pace, in your own time and from anywhere in the world. You can also access a wealth of resources and support from expert tutors.

People are turning to courses to upskill for a variety of reasons. Perhaps you want to change career or progress in your current role. Maybe you're looking to start your own business or learn new skills for a hobby. Or you could be returning to education after some time away.

Whatever your reason for wanting to upskill, there's an online course out there for you. With so many courses available, you're sure to find one that meets your needs and interests. And with the flexibility of online learning, you can fit studying around your other commitments.
Advantages of online learning
It's no secret that the COVID-19 pandemic has forced many of us to re-evaluate the way we live and work. For many people, that has meant moving away from traditional, in-person learning models and turning to online courses to upskill.

There are plenty of advantages to learning online. Here are just a few:

1. You can learn at your own pace.

2. You can choose from a wide range of courses.

3. You can learn from anywhere in the world.

4. You can take courses on a variety of topics, not just those related to your field.

5. Online courses are often more affordable than traditional ones.
The different types of online courses available
There are a variety of online courses available to take for those looking to upskill. The most popular type of online course is the MOOC (massive open online course), which is a free online course that anyone can take. Other types of online courses include Coursera, Udemy, and edX.

MOOCs are typically offered by universities and are mostly academic in nature. They usually last around 6-10 weeks and require 5-10 hours of work per week. Coursera offers both free and paid courses, with the latter being more comprehensive and often including assignments and quizzes. Udemy offers a range of courses, both free and paid, on many different topics such as programming, business, design, and personal development. edX is a non-profit platform that partners with universities to offer high-quality online courses.
Why more people are turning to online courses to upskill
In recent years, there has been a revolution in online learning. More and more people are turning to online courses to upskill themselves and stay ahead of the curve. There are many reasons for this trend.

One reason is that online courses are more flexible than traditional classroom-based courses. You can study at your own pace and in your own time. This is especially useful for busy adults who want to learn new skills but don't have the time to commit to a full-time course.

Another reason is that online courses are often more affordable than traditional courses. They also have a wider range of topics than most traditional courses. This means that you can find a course that suits your specific needs and interests.

Finally, online courses offer the opportunity to learn from some of the best instructors in the world. Many top universities now offer online courses, so you can get a world-class education without even leaving your home.

So if you're looking to upskill yourself, why not consider an online course? With so many benefits, it's no wonder that more and more people are turning to this type of learning.
Learn The Courses With Coursera
Whether you're looking to change careers, get a promotion, or simply learn something new, taking an online course is a great way to achieve your goals. And with so many courses available on Coursera, there's sure to be one that's perfect for you.

Not sure where to start? Here are some of our most popular courses:

– Programming for Everybody (Getting Started with Python): This course will teach you the basics of programming in Python. You'll learn how to write programs, debug errors, and design user-friendly interfaces.

– Data Science: This course will introduce you to the world of data science. You'll learn about different data mining techniques and how to use them to make predictions.

– Machine Learning: In this course, you'll learn about the different types of machine learning algorithms and how they can be used to solve real-world problems.