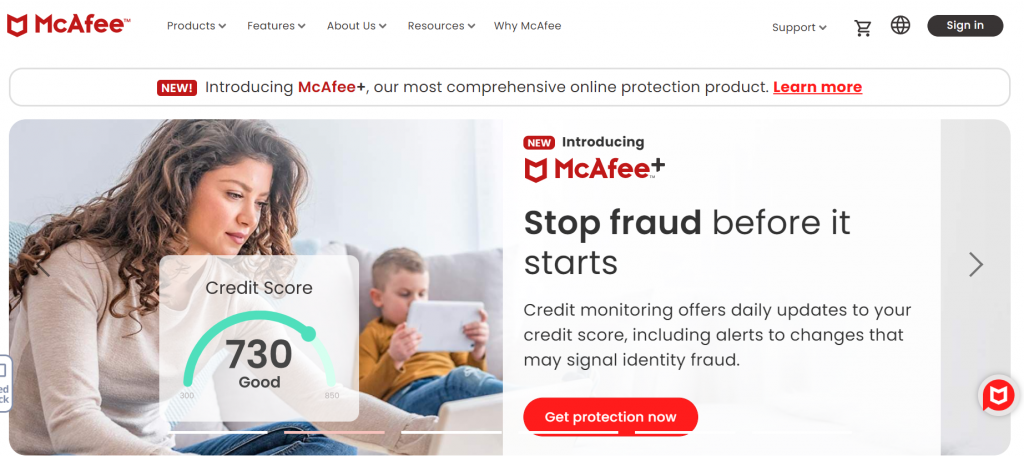 When you think of antivirus software, McAfee is among the first companies that spring to mind. Founded in 1987, they've been keeping computers safe from viruses for well over thirty years now. In 2022, McAfee remains one of the world's most popular antivirus brands. But there's more to it than that.
McAfee is considered one of the best antivirus tools by security experts and users alike. It has excellent malware detection rates, lots of extra features like a password manager and a VPN, and helpful customer support. Also, our own experience shows that it's really easy to set up and use.
But just how good is McAfee really, and how secure is it compared to other antimalware products? How much does McAfee cost? Learn all that and more in our in-depth McAfee antivirus review.
McAfee Antivirus Pros and Cons
Pros
User-friendly
Cheap multi-user options
Superb customer support
VPN
Password manager
Encrypted storage
Cons
iOS version is lacking
App boost does nothing
Confusing pricing plans
McAfee Security Features

McAfee provides excellent real-time malware detection along with some of the best web protections on the market for an excellent price. McAfee also has a ton of useful extra features and is one of the few providers that allow you to cover an unlimited number of devices.
McAfee's antivirus scanner scored an impressive 100% malware detection rating in all of my tests across Windows, Mac, Android, and iOS devices. It was able to identify and block both simple and sophisticated threats, including viruses, trojans, spyware, ransomware, and cryptojackers.
McAfee also offers more additional features than most other antiviruses, including:
Firewall and Wi-Fi network protection.
Anti-phishing protection.
Virtual private network (VPN).
Performance optimization.
Password manager.
Parental controls.
Identity theft protection.
File shredder.
Most of McAfee's features work exactly as promised — I'm a huge fan of McAfee's anti-phishing and anti-exploit browser extension, which blocked more dangerous sites than Chrome or Firefox in my tests. I also think McAfee's firewall and Wi-Fi protections are better than similar protections offered by premium competitors like TotalAV and Avira.
On the other hand, I don't like that the full system scan often causes system slowdown (but you can schedule full scans when you're not using your computer), and I'd like to see all of McAfee's features integrated into a single dashboard. I also think the VPN could use some improvement — it doesn't allow torrenting, and it's unable to access some popular streaming sites (it works with Netflix and Amazon Prime, but not with Disney+ and Hulu).
That said, I still think McAfee is one of the best-value antiviruses out there. It has a high-quality malware scanner, provides a wide range of security features, and is easy to use — and all of this for a very low price.
McAfee offers 1-year subscriptions for all of its plans as well as a discounted 2-year plan for its Plus plan, which has coverage for up to 5 devices. McAfee has a 30-day money-back guarantee on all of its plans, so there's no risk in trying it out.
McAfee Scans
McAfee offers three types of scans. You can check your system with a Quick or Full scan as well as select specific folders and files for examination. The quick scanning option is said to take between 5 to 10 minutes while the detailed one – approximately 30 minutes. We've tested this antivirus ourselves to check these promises.
We've planted 10 malicious files using 3.99 GHz 4 CPUs with 8 GB RAM to test both scanning options and here are the results:
Quick scan. McAfee scanned almost 7000 files in around 6 minutes and 20 seconds and found 0 malware out of 10 planted. The CPU load was around 28% with a few spikes to 80%.
Full scan. Scanning almost 210000 files took 22 minutes and McAfee found 8 out of 10 infiltrated viruses. During the majority of the process time, CPU load was around 90-100%.
What's also worth mentioning is that McAfee additionally offers a Vulnerability Scanner. It looks out for the essential security patches and lets you know when any of your apps need to be updated to reduce the risks of potential cyberattacks.
All in all, McAfee scans provided decent performance during our tests. It's nice that the estimated duration times were accurate but we'd advise always opting for a Full scan. Since malware can hide in unexpected places on your system, it's vital to check as many files as possible to find it.
McAfee's Firewall

McAfee's firewall is powerful, easy to use, and highly customizable — but if you're not tech-savvy, it also runs perfectly well out of the box. In my testing, McAfee detected a variety of my test threats, including network intrusions, exploit attacks, and malware programs attempting to communicate with remote servers. McAfee's firewall protection was more accurate and effective than the built-in firewalls provided by both Windows and macOS.
McAfee's firewall has a ton of security capabilities — for example, McAfee allows users to:
Decide which programs can access the web.
Open and close specific network ports.
Choose 4 different levels of intensity for network protection.
Adjust trust settings for saved networks.
Activate software intrusion detection.
Whitelist specific programs.
I really like the variety of options that McAfee's firewall provides — but less tech-savvy users can also simply set the firewall to automatically block suspicious activity with almost zero user input.