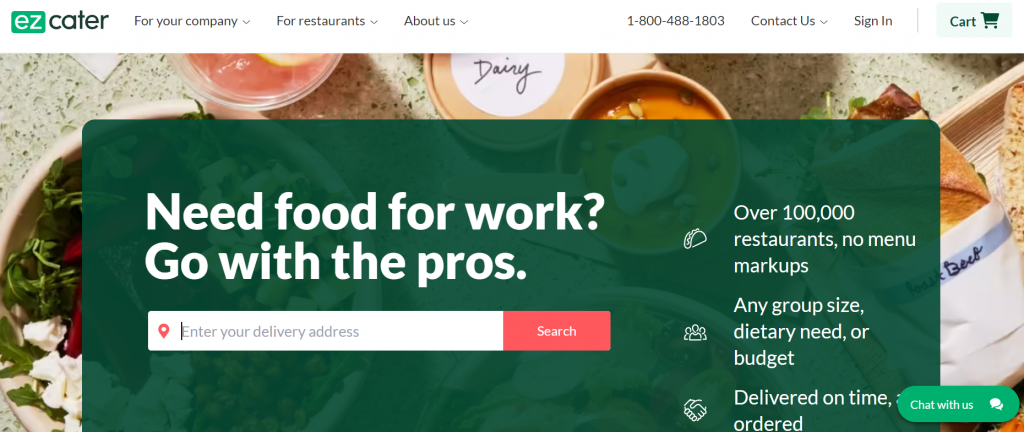 Introduction
Planning an event can be a stressful and time-consuming task. From finding the perfect venue to coordinating logistics, there are countless details to consider. But when it comes to catering, one platform stands out from the rest – Ezcater. With their top-notch services and user-friendly website, Ezcater simplifies event planning like never before. Whether you're organizing a corporate luncheon or a wedding reception, Ezcater has got you covered with their wide range of catering options. Say goodbye to the hassle of searching for reliable caterers – read on to discover how Ezcater can revolutionize your event planning experience!
What is Ezcater?
What is Ezcater? It's a question that many event planners and professionals in the catering industry have asked themselves. Well, let me give you the rundown on this innovative platform.

Ezcater is an online marketplace that connects businesses and individuals with top-notch catering services. Whether you're planning a corporate lunch, a wedding reception, or any other type of event, Ezcater makes it easier than ever to find the perfect caterer to meet your needs.

The process is simple: just visit their website or download their app, enter your event details including location, date, and number of guests, and browse through a wide selection of local caterers. With over 60,000 restaurants and caterers available across the United States, you'll be sure to find something that suits your taste buds.

One of the great things about Ezcater is its user-friendly interface. The website is clean and easy to navigate, making it super convenient for even those who aren't tech-savvy. Plus, they offer excellent customer support if you have any questions or need assistance along the way.

Another advantage of using Ezcater is the variety of options available. From breakfast buffets to boxed lunches and everything in between – there's no shortage of delicious choices to satisfy all tastes and dietary preferences.

In addition to finding great food options for your event, Ezcater also provides helpful tools such as transparent pricing information and detailed menus from each caterer. This allows you to compare offerings side by side before making a decision – saving you time and hassle.

Whether you're hosting a small gathering or planning a large-scale event with hundreds of attendees,Ezcater has got you covered.

With their extensive network of trusted caterers, you can rest assured knowing that every detail will be taken care of to create an unforgettable dining experience for your guests.

How Does Ezcater Work?


Ezcater is a user-friendly online platform that simplifies the process of event planning by connecting individuals and businesses with top-notch catering services. Whether you're organizing a corporate lunch, birthday party, or wedding reception, Ezcater ensures that your catering needs are met efficiently and seamlessly.

The first step in using Ezcater is to visit their website and create an account. Once you've signed up, you can start browsing through their extensive list of caterers in your area. The platform provides detailed information about each caterer, including menus, pricing options, and customer reviews.

Once you've found the perfect caterer for your event, simply select the items you want to order from their menu. You can customize your order based on dietary restrictions or specific preferences. After finalizing your choices, proceed to checkout where you can review the details of your order before making payment securely online.

Ezcater also offers a convenient delivery service. Once your order has been placed and confirmed by the caterer, they will handle all aspects of delivery directly to your venue at the specified time.

Ezcater streamlines the entire process of arranging catering services for any occasion through its intuitive online platform. With just a few clicks, you can easily find reputable caterers near you and place orders hassle-free – saving both time and effort in event planning!
The Benefits of Using Ezcater
When it comes to event planning, one of the biggest challenges is finding reliable and high-quality catering services. This is where Ezcater comes in. With their easy-to-use website and extensive network of top-notch caterers, they simplify the process and ensure that your event is a success.

One of the major benefits of using Ezcater is the convenience it offers. Instead of spending hours searching for caterers on your own, you can simply visit their website and browse through a wide range of options. Whether you need breakfast for a corporate meeting or dinner for a wedding reception, Ezcater has got you covered.

Another advantage of using Ezcater is the peace of mind it provides. All the caterers listed on their platform have been carefully vetted to ensure that they meet strict quality standards. This means that you can trust that the food will be delicious, the presentation will be impeccable, and everything will run smoothly on the day of your event.

In addition to convenience and peace of mind, using Ezcater also allows you to save time and money. By leveraging their extensive network, they are able to negotiate competitive prices with caterers. This means that you can get high-quality catering at affordable rates – something every event planner appreciates.

If you want to simplify your event planning process and ensure top-notch catering services, look no further than Ezcater. Their convenient platform, reliable caterers, and cost-saving benefits make them an excellent choice for any occasion.
The Different Types of Catering Services Offered by Ezcater
Ezcater is a game-changer when it comes to simplifying event planning and ensuring top-notch catering services. With their user-friendly website and extensive network of caterers across the country, they make it easy for individuals and businesses to find the perfect catering solution for any occasion.

Whether you're hosting a corporate luncheon, a wedding reception, or a casual backyard BBQ, Ezcater has got you covered. Their wide range of catering options ensures that there's something to suit every taste and budget.

From delicious breakfast spreads to mouthwatering sandwiches and wraps, from elegant plated dinners to impressive buffets – Ezcater offers it all. They even have specialized menus for dietary restrictions such as vegetarian, gluten-free, and vegan. Whatever your specific needs may be, Ezcater will work with you to create a customized menu that will wow your guests.

But it's not just about the food. Ezcater also provides exceptional service throughout the entire process. Their team of experts is ready to assist you in finding the right caterer based on your preferences and requirements. Plus, their online ordering system makes it incredibly convenient to place orders and manage details seamlessly.

So why stress over event planning when you can simplify everything with Ezcater? Say goodbye to endless searches for reliable caterers or worrying about last-minute changes – let Ezcater take care of it all so that you can focus on enjoying your event.

Ready to experience stress-free event planning? Head over to the Ezcater website now and discover how they can make your next gathering truly unforgettable!