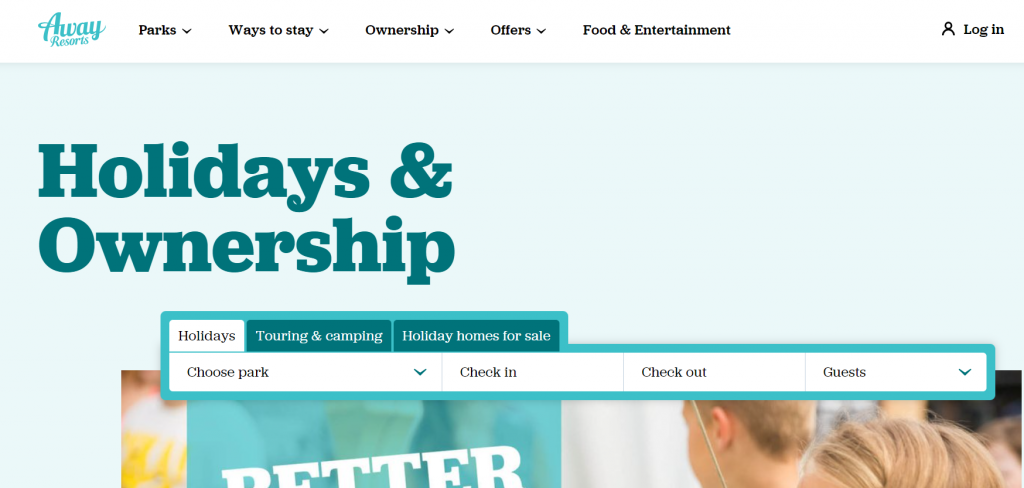 Welcome to the enchanting world of UK holiday parks! Whether you're seeking a relaxing break amidst stunning natural landscapes or an action-packed adventure for the whole family, there's no better way to escape the ordinary than with a getaway to one of AwayResorts' incredible holiday parks. But before you pack your bags and embark on your next vacation, let's take a closer look at their website and uncover all its hidden gems. In this review, we'll explore the pros and cons of the AwayResorts website, discover what sets their holiday parks apart from the rest, and guide you on how to find your perfect park match. So get ready to dive into a world where relaxation meets excitement – it's time to plan your dream UK getaway!
UK Holiday Parks
Imagine waking up to the sound of birds chirping, surrounded by lush greenery and breathtaking views. That's exactly what you can expect from UK holiday parks. These delightful havens offer a wide range of accommodation options, from cozy caravans to luxury lodges, ensuring there's something for every budget and preference.

But it's not just the accommodations that make these parks so special. They are often nestled in some of the most picturesque areas of the country, allowing you to immerse yourself in nature and reconnect with loved ones. Whether you're gazing at starry skies on a clear night or exploring hidden trails during the day, there's no shortage of outdoor adventures waiting for you.

One of the great things about UK holiday parks is their family-friendly atmosphere. With plenty of activities and facilities tailored specifically for children, parents can relax knowing that their little ones will be entertained throughout their stay. From playgrounds and swimming pools to organized games and events, there's never a dull moment for kids!

And let's not forget about those seeking a dose of adrenaline-fueled fun! Many holiday parks boast an array of thrilling recreational opportunities such as water sports, zip-lining, archery, or even high ropes courses. So whether you're an adventure enthusiast or simply looking to try something new and exciting during your vacation, rest assured that these parks have got you covered.
AwayResorts Website Review
AwayResorts is a popular name when it comes to holiday parks in the UK. But how does their website measure up? Let's dive into our review of the AwayResorts website and find out.

First impressions matter, and the moment you land on their homepage, you're greeted with stunning visuals that instantly transport you to a world of relaxation and fun. The layout is clean and intuitive, making it easy to navigate through the different sections.

One standout feature of the website is its comprehensive search functionality. You can filter your search based on location, date, accommodation type, and even specific amenities or activities. This makes finding your ideal holiday park a breeze.

Another great aspect is the detailed information provided for each park. From photos and descriptions to lists of facilities and nearby attractions, everything you need to know before making a booking decision is right at your fingertips.

The site also offers helpful resources like customer reviews and FAQs that address common queries about bookings, cancellations, and COVID-19 safety measures. It shows that they value transparency and prioritize customer satisfaction.
Pros and Cons of the AwayResorts Website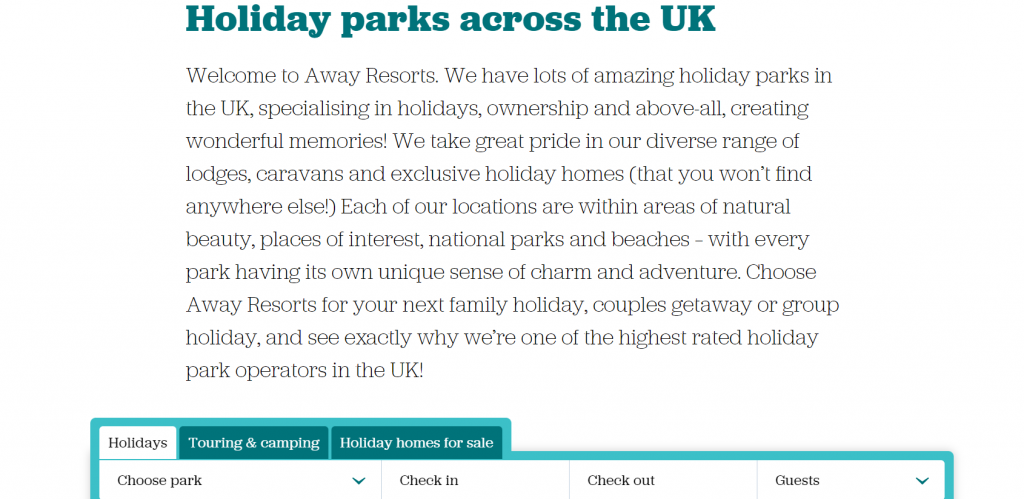 The AwayResorts website offers a convenient and user-friendly platform for those seeking their ideal holiday park in the UK. One of the standout features is its visually appealing design, with stunning imagery that instantly captures your attention. The layout is intuitive, making it easy to navigate through the various pages and find exactly what you're looking for.

Another pro of the website is its comprehensive search function. Whether you want a beachside escape or a countryside retreat, you can filter your options based on location, amenities, and activities. This ensures that you can easily narrow down your choices to find the perfect holiday park that suits your preferences.

Furthermore, the website provides detailed information about each park, including accommodation options and facilities available on-site. This allows potential visitors to make an informed decision before booking their stay.

On the downside, one area where improvement could be made is in terms of mobile optimization. While browsing on a desktop or laptop is seamless, some users have reported difficulties accessing certain features when using smaller devices such as smartphones or tablets.
What kind of holiday parks does AwayResorts offer?
AwayResorts offers a wide range of holiday parks in the UK, each with its own unique features and attractions. Whether you're looking for a peaceful retreat in nature or a lively family-friendly park, they have something to suit every taste.

For those seeking a relaxing getaway, their parks nestled amidst beautiful countryside provide the perfect setting. Imagine waking up to stunning views of rolling hills or enjoying strolls through picturesque woodlands. These parks offer tranquility and serenity, allowing you to unwind and recharge away from the hustle and bustle of daily life.

If adventure is what you crave, AwayResorts has plenty to offer as well. Their action-packed holiday parks are brimming with exciting activities for all ages. From water sports like kayaking and paddleboarding to high ropes courses and zip lines, there's never a dull moment at these energetic parks.

Families will love the child-friendly amenities available at many of AwayResorts' holiday parks. With on-site swimming pools, playgrounds, and kids clubs offering fun-filled activities throughout the day, children are sure to be entertained while parents can relax knowing that their little ones are having a blast in safe environments.

No matter which type of holiday park appeals to you most – whether it's embracing nature's beauty or engaging in thrilling adventures – AwayResorts has options that cater to everyone's preferences. So start planning your next unforgettable vacation today!
How to find the best holiday park for you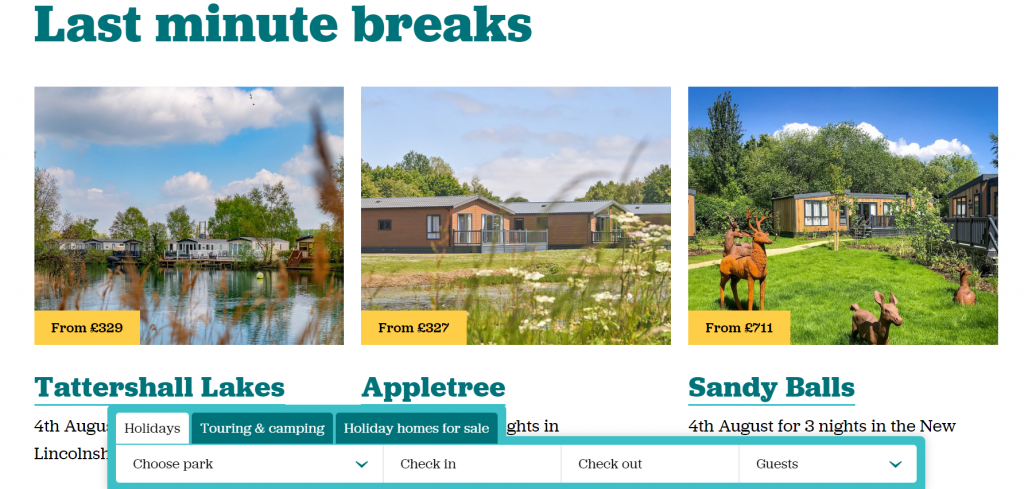 Finding the best holiday park for you can be an exciting and rewarding experience. With AwayResorts' user-friendly website, it becomes even easier to explore and compare various options. Whether you're looking for a family-friendly park with plenty of activities or a peaceful retreat in nature, their range of parks has something to offer everyone.

To make the most informed decision, take some time to consider your preferences and priorities. Are you seeking relaxation or adventure? Do you prefer coastal views or woodland surroundings? Consider factors like accommodation options, on-site amenities, nearby attractions, and customer reviews.

Utilize the search filters on the AwayResorts website to narrow down your choices based on location, facilities, and availability. Take advantage of their comprehensive descriptions, photos, and virtual tours to get a better sense of each park's atmosphere and offerings.

Don't forget to read reviews from previous visitors – they provide valuable insights into what you can expect during your stay. Additionally, reach out to friends or family who may have visited any of the parks before for firsthand recommendations.

Happy exploring!