Are you tired of exorbitant roaming charges when traveling abroad? Or, perhaps you're concerned about being disconnected from the world while exploring new destinations. Fret not! Airalo is here to revolutionize your global connectivity experience and offer a solution that won't break the bank. In this blog post, we'll be taking an in-depth look at how Airalo works, its pros and cons, and why it's a must-have for anyone who frequently travels internationally. So buckle up, grab your passport, and let's dive into the ultimate solution for affordable global connectivity – Airalo!
What is Airalo?
Airalo is a groundbreaking platform that offers affordable and convenient mobile data connectivity to travelers across the world. It's essentially an eSIM provider that allows you to purchase local or international prepaid data plans for your smartphone, tablet, or hotspot device.

One of the most significant advantages of Airalo is its flexibility. You can choose from over 1000 different carriers in more than 130 countries worldwide, ensuring that you have seamless access to internet services no matter where you are on the planet.

Furthermore, the process of purchasing a plan with Airalo is incredibly straightforward. All you need to do is download their app, select your desired location and duration of data usage, pick a suitable plan based on your needs and budget, make the payment online using secure payment methods like PayPal or credit card – and voila! Your eSIM will be activated instantly!

Airalo provides flexible global mobile data solutions through an easy-to-use app interface at an affordable price point.
How Airalo Works
Airalo is a virtual SIM card provider that offers affordable global connectivity to travelers. The process of how Airalo works is simple and convenient for users. Firstly, you need to download the Airalo app from your mobile store and register with an email address or social media account.

Once you've done that, choose the country you'll be visiting and select a data plan that best suits your needs. You can purchase data plans ranging from 1GB to unlimited data valid for up to 30 days at very reasonable prices.

After purchasing a data plan, activate it on your phone through the app by following the instructions provided. Once activated, you have instant access to mobile internet in over 100 countries worldwide without having to swap out physical SIM cards.

The beauty of using Airalo is its flexibility as it accommodates all types of devices including smartphones, tablets and even smartwatches. Therefore, if you're looking for hassle-free global connectivity while traveling abroad without breaking the bank then look no further than Airalo!
Airalo's Global SIM Cards
Airalo's Global SIM Cards are revolutionizing the way travelers stay connected while abroad. The service provides affordable, reliable data and voice coverage in over 100 countries worldwide. It eliminates the need to juggle multiple SIM cards or pay exorbitant roaming fees.

The process of using Airalo's Global SIM Card is straightforward – simply purchase a plan that best suits your needs from their website or mobile app before you leave for your trip. Once you arrive at your destination, insert the card into your phone and enjoy seamless connectivity without any additional setup required.

One significant advantage of Airalo's Global SIM Cards is that they provide access to local networks in each country rather than relying on expensive international roaming services. This means faster speeds and better coverage overall.

Another benefit is that Airalo offers flexible plans starting at just $5, with options for daily or monthly usage depending on how long you'll be traveling. Plus, their customer support team is available 24/7 to answer any questions or concerns you may have.

If you're someone who loves to travel but dislikes the cost and hassle of staying connected while abroad, then Airalo's Global SIM Cards are an excellent solution worth considering. With their affordable pricing, global reach, and reliable service quality, you can travel smarter knowing that communication won't be an issue during your journey!
The Pros and Cons of Airalo
Airalo, the innovative eSIM provider brings a novel solution to global connectivity dilemmas. However, like all things in life, Airalo has its pros and cons.

On the positive side of things, Airalo offers affordable rates for data packages when traveling globally. This is especially useful for those who frequently cross borders or travel abroad for business often since it can save them significant amounts of money compared to traditional roaming charges from their local service providers.

Another plus point is that using Airalo is easy and convenient; you don't have to get a physical SIM card nor do you need to visit a store or kiosk. You can sign up on their website and download the eSIM profile directly onto your phone without any hassle.

However, there are some downsides as well. One disadvantage would be that not all countries support eSIM technology yet so it might not work everywhere in the world just yet. Additionally, while they offer competitive prices compared to traditional roaming charges from local providers, some travelers may find cheaper options available elsewhere depending on where they're travelling.

All in all, if you're someone who values convenience and cost-effective solutions when traveling internationally then using Airalo could be an excellent option worth considering!
How to Use Airalo
Using Airalo is a breeze and can be done in just a few simple steps. First, visit the Airalo website and select your destination country from the list of available options. Next, choose the data plan that suits your needs – there are different plans for different durations and data allowances.

Once you've chosen your plan, simply enter your details and payment information to complete the purchase process. You'll then receive an email with all the necessary information about how to activate your SIM card upon arrival at your destination.

When you arrive in the country, insert the SIM card into your phone and follow the instructions provided by Airalo for activating it. Once activated, you'll have access to fast and affordable mobile data wherever you go.

One great thing about using Airalo is that there's no need to worry about hidden fees or unexpected charges – everything is transparently priced upfront so you know exactly what you're paying for before making a purchase.

Using Airalo is incredibly easy and convenient – making it an ideal choice for travelers who want hassle-free global connectivity without breaking the bank.
Where to Get Airalo's Global SIM Cards
Looking to get your hands on an Airalo Global SIM Card? Luckily, it's incredibly easy to do so! You can purchase one directly from the Airalo website, which offers fast and free worldwide shipping.

Simply visit their website and select the region that you'll be traveling to. From there, you can choose between different data plans and durations that suit your needs best. Once you've made your selection, all you need to do is enter in a few details like your travel dates and delivery address.

Another convenient option is purchasing Airalo Global SIM Cards through their partner network of online travel agencies such as Booking.com or Expedia.com. This way, you can easily add a SIM card while booking your flights or accommodations for even more convenience.

If you prefer shopping in person rather than online, some airports around the world offer Airalo Global SIM Cards for sale at kiosks or vending machines. Be sure to check if this option is available at the airport(s) you will be visiting before departing!

No matter how you choose to purchase it though, getting an Airalo Global SIM Card couldn't be simpler – ensuring that no matter where in the world your travels take you next, staying connected won't have to be a hassle anymore!
The Benefits of Airalo's Global SIM Cards
Airalo's Global SIM Cards offer a host of benefits that make them an essential companion for any frequent traveler. Firstly, these SIM cards eliminate the need to purchase a new local SIM card every time you visit a new country. This means no more fussing over language barriers or dealing with complicated registration processes.

Secondly, Airalo's Global SIM Cards are incredibly cost-effective compared to traditional roaming plans. With rates starting as low as $3 per day, travelers can enjoy high-speed data connections without worrying about exorbitant bills.

Thirdly, Airalo offers unparalleled coverage across 190+ countries and territories worldwide. Whether you're traveling through Asia, Europe, or South America – Airalo has got you covered!

Using Airalo's Global SIM Card is extremely easy and convenient thanks to its user-friendly app interface. You can easily manage your account settings on-the-go and top up your balance whenever needed.

With all these benefits combined, it's clear that Airalo's Global SIM Cards are the ultimate solution for hassle-free international travel!
While Traveling Globally This Is Must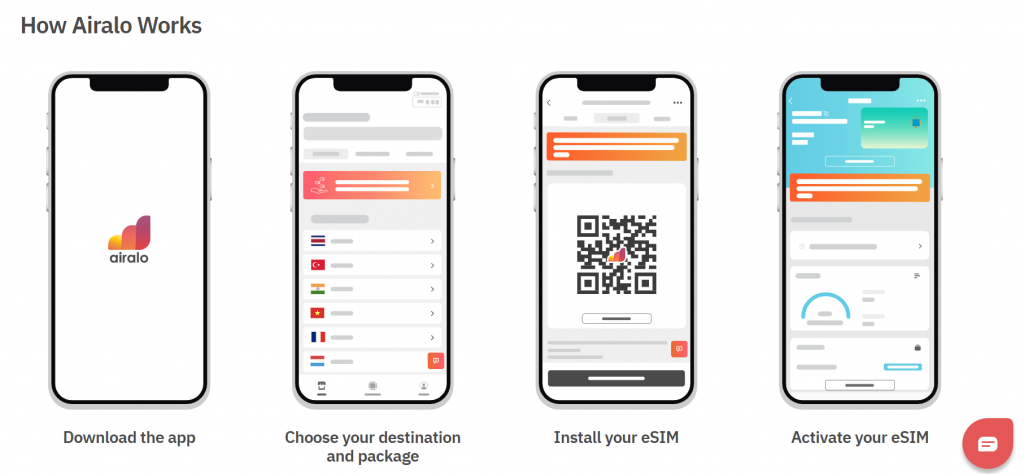 In today's interconnected world, staying connected is a necessity for most people. And when it comes to traveling internationally, having access to affordable and reliable connectivity options can make all the difference in your trip.

Airalo offers an innovative solution to this problem with its global eSIM platform that enables travelers to get online instantly without breaking the bank. With Airalo, you no longer have to worry about expensive roaming charges or finding Wi-Fi hotspots wherever you go. Instead, you can enjoy seamless data connectivity across 100+ countries at competitive rates.

Whether you're a frequent business traveler or simply love exploring new destinations around the world, Airalo is a must-have tool that simplifies your travels and allows you to stay connected on-the-go. So why not give it a try and see how easy and affordable global connectivity can be?